(732) 291-0010 |

59 East Lincoln Avenue, Atlantic Highlands NJ 07716 |

jmcginley@posten-mcginleyfuneralhome.com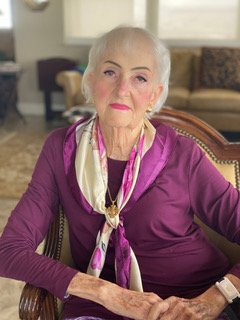 Obituary of Dolores Hesse Fink
Please share a memory of Dolores to include in a keepsake book for family and friends.
DOLORES HESSE FINK of MIDDLETOWN, NJ and FORT LAUDERDALE, FL died on July 30, 2021 at Holy Cross Hospital in Fort Lauderdale, FL of natural causes.
Dolores was a long time resident of Monmouth County, NJ who moved to Fort Lauderdale, Florida full time upon her retirement. She graduated high school from Star of the Sea Academy in Long Branch, NJ; earned her Bachelors of Arts degree Cum Laude from Marymount College, Tarrytown, NY; and a Master of Arts degree from Georgian Court College, in Lakewood, NJ. Dolores had pizazz and her own personal style. Throughout her active life, Dolores was passionate about each of her many interests, which included teaching, working with children with special needs, charitable causes, ballroom dancing, golf, and tennis, but most of all, her children and grandchildren. Dolores was a faithful and practicing Catholic, making a pilgrimage to the Grotto in Lourdes, France in 2013. She was predeceased by her brothers Charles J. Hesse, III (2006) and John W. Hesse (1981). Surviving Mrs. Fink are her husband of 61 years, John (Jack); three children, John C. Fink, III of Little Silver and his children John, Kaiden, and Jennifer; Thomas A. Fink of Washington, DC, his wife Brooke and their children, Harriet, Grace, Katherine, Laura, Claire, and Margaret; and Anthony G. Fink of Raleigh, NC and his children Charles, Anthony and Brian. Most of Dolores' professional life was as a teacher. She began that career in 1960 as an elementary school teacher in Borough of Shrewsbury, NJ, but put that career on hold after the birth of her first son. She then devoted her life to her family, successfully raising three boys with Jack. It was hard to keep Dolores away from the classroom, however, and she found time to volunteer often as one of the "Picture Ladies", bringing Fine Art to the elementary school students of St. Agnes School in Atlantic Highlands. As her youngest son began high school, Dolores was able to return to the classroom full time in 1980, resuming her career as a substitute teacher in Hazlet, NJ. Fate brought Dolores one day to substitute teach for a special education class. This experience opened a whole new door for Dolores. From that day on, she worked exclusively as a special educator working with mentally and physically impaired children. Dolores went back to school herself, too, earning a Masters Degree in Special Education at Georgian Court. She served as a Learning Disabilities Teacher and consultant and, during the final years of her career, Dolores was a tireless advocate for those without a voice, ensuring that their educational rights were met.
Dolores was devoted to her family and friends. For the last 25 years, her passion and blessing were her twelve grandchildren. Dolores cared deeply for all she met. She was a caring and generous soul who will be missed by all that knew her. Dolores liked to have fun and she was fun. Later in her life, and much to the shock and delight of her family, she took up ballroom dancing with all the same zeal and energy with which she pursued everything else in her life. For over 10 years, Dolores took dancing lessons, trained, and competed with great success. She was dancing with the stars before most of America had even heard of it. After a long and full life, Dolores' passing, while not unexpected, came more rapidly than anticipated on Friday. Thankfully, her husband Jack was by her side.
Relatives and friends are invited to call from 2 to 4 p.m. and 7 to 9 p.m. Wednesday August 11th at Posten-McGinley Funeral Home, 59 E. Lincoln Ave., Atlantic Highlands. A Funeral Mass will be offered at 10 a.m. Thursday August 12th at St. Agnes Roman Catholic Church, 103 Center Avenue, Atlantic Highlands. A memorial mass and celebration of life will be held at Saint Sebastian Roman Catholic Church, 2000 Marietta Drive in Fort Lauderdale, Florida at a later date. In lieu of flowers, the family suggests donations can be made to the Arc of New Jersey to benefit individuals with intellectual and developmental disabilities in memory of Dolores Hesse Fink. The Arc of New Jersey 985 Livingston Avenue North Brunswick, NJ 08902 Tel: 732.246.2525 Fax: 732.214.1834 https://www.arcnj.org/help/donate_now.html
To send flowers to the family or plant a tree in memory of Dolores Fink, please visit Tribute Store
Share Your Memory of
Dolores