(732) 291-0010 |

59 East Lincoln Avenue, Atlantic Highlands NJ 07716 |

jmcginley@posten-mcginleyfuneralhome.com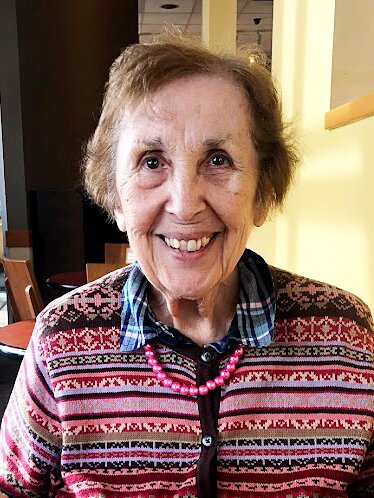 Obituary of Jean Lois Theresa Kohlenbush Tierney
Please share a memory of Jean Lois Theresa to include in a keepsake book for family and friends.
The eternal peace embraced Jean Kohlenbush Tierney on Sunday, December 5th, 2021 while surrounded by her family within her room at Harrogate. It was well-deserved after a many-years-long struggle with dementia and its ravaging effects on the mind and heart. Ah, but that dragon didn't take all from this fierce and stubborn woman. Mere hours before her leaving us, she was happily singing along to her favorite musical, "Meet Me in St. Louis." Her voice was clear and bright as ever, just as it was when she made us dinner, folded our clothes, and played with us. Heaven's choir received an able addition, for certain.
The first note she sang was on New Year's Eve, December 31st, 1938. Maybe it was more of a shrill cry of a newborn, but to her parents Veronica (Ronnie) and William (Bill) Kohlenbush it was definitely the sweetest music. She grew up in Highlands, NJ and attended Holy Cross School and Red Bank Catholic High School where she sang in the chorus. Her mother was an accomplished organist and singer for the local church, and her father played saxophone. And she always was reminding us of how we were related to the famous tenor, John McCormack! Ah, but if only there weren't some sour notes in that home on the Shrewsbury.
If Jean inherited her voice from her Irish mother, then she definitely got her stubbornness from her German father. From the stories I heard, oh how she tussled with her father over big and small! One of my favorites was when one night she refused to eat liver. Her father made her stay at the table until she did, but that only resulted in a draw as Jean fell asleep in her chair rather than give in! Yes, Jean could be as strong-willed as a mule when she wanted.
But perhaps that trait was a virtue when what she wanted was to marry Thomas (Tom) Tierney. Tom and his family would come down from New York City and vacation in Highlands each year. As she told me, they were young when they first met, but Mom "knew right away" that he was the man for her! I'm not sure how my Dad felt about this girl who must've smelled like salt water and fish. After all, Jean helped her dad and her Uncle Chris run the local bait shop where Moby's now sits below the bridge. She described that place with great terror and revulsion. Apparently, in the dark below, she would tend to the live clams in their purifying baths. These clams would squirt water up at her all the time! 'Til her dying day, she couldn't stand any shellfish.
Now, my knowledge of what Jean got up to in her college and early adult years is a bit lean. But I do know of two amazing facts that defy expectations. First, in college she was a competitive synchronized swimmer. You know, the sport where they wear nose plugs and the team dances underwater. I suppose this makes more sense if I tell you that Jean LOVED the water. Growing up in Highlands across from Sandy Hook, there was really not much else to do, I suppose. And she must've been really good as she often regaled us with her story of swimming across the rushing Shrewsbury river to visit the Sandlass Beach Club on the other side. It wasn't a safe passage at all with boats passing back and forth and strong currents leading out to the bay. I'm pretty sure she told me that one kid died making that trip. How brave Jean was!
And how brave, indeed. Because the second fact about Jean was that after studying English, History, Theater, and Secondary Education at Marywood College, she volunteered to go south (and I mean The South) to teach Black students in 1960. This was during the heights of the Civil Rights Movement! That's right - Jean was a tried-and-true activist. From the stories I heard, she joined her church group and went to Montgomery, Alabama to teach for a year. It was very dangerous but she made it riskier. Against all the rules, she would sneak out of the white section of town to visit her favorite students at their homes. One night, walking home on the wrong side of town, a police officer pulled up behind her ready to arrest her. It was really going to be the end before her priest came to her rescue and got her home safely.
And back in the safety of New Jersey, she finally got what she wanted when Tom proposed to her. The marriage was all set, invites were mailed, and the hall was booked. However, the Cuban Missile Crisis had other plans. Just prior to their wedding, Tom was recalled to his Navy picket ship to patrol Cuba's coast for Russian freighters bringing nukes to the island. Their story even made it into the newspaper! Of course, things calmed down and the two did get married in 1963, eventually settling in Lakewood, New Jersey with their four wonderful children: Annemarie, David, John, and Peter (your unreliable narrator).
Life was grand for a while, but nothing gold remains. Light cannot exist without darkness just as happiness cannot exist without grief. Tragically, young John was lost in a bicycling accident, breaking the heart of all, but especially of Jean. So many days, weeks, years of sorrow and guilt. Poor mother. Poor Jean.
I'm not sure how much time passed as I was still young, but she did recover. Thoroughly supported by her deep Catholic faith, Jean lifted herself up with a new determination. She went back to school and earned a Master's degree in Public Relations at Glassboro State College, now known as Rowan University. She took work with Community Memorial Hospital in Toms River. Her determination and skill led her straight to the top and she was Director of Public Relations for many years starting in the early 80s. I remember joining her at many of the events she organized, including 5k runs. She later took her expertise to Monmouth Medical Center where she worked until retirement.
Jean loved her work, for sure, but she had other loves, as well. There was, of course, her children to whom she dedicated nearly all of her resources. She ensured that we went to the best schools possible, pursued all our varied hobbies and interests, and supported us in every way - even now, long after her passing. Not gonna lie, it was sometimes a tough love. She never let us quit because something was hard even if we fought her. She was merciless with a fork to the arm if you ever put your elbows on the table. And her aim with a thrown shoe was unerring even as we bolted up the stairs to hide in our rooms from her righteous fury. And this love extended to her grandchildren Shannon, Ryan, Koga, and Ena. Every hour with them brought her immense joy and she sacrificed much to make them happy.
Jean loved the Church, too, as was clear to all who knew her. She was dedicated and committed to her faith completely. After retirement, she volunteered her time to many of its causes such as when she taught CCD classes and published a cookbook. Also, on many a night she put aside her own needs in order to participate in the 24-hour prayer vigil at St. Veronica's of Howell, NJ.
But - and oh, this might be heresy that will cause her to haunt me from the grave - I do believe her greatest love was for fantasy! Who as Dungeon Master introduced a 9-yr-old me and my young cousin Tom to the infinite imagination of Dungeons & Dragons? Who sat behind my chair at the computer, whispering hints from a book even though I yelled at her not to, as we played endless games of Wizardry, Bard's Tale, Ultima, and nearly the entire Infocom catalog? Who read every novel about Narnia, Middle Earth, Xanth, Shannara, Thomas Covenant, Percy Jackson, Harry Potter, etc. before handing them off to me? Jean, of course.
And so to this great woman let us give our respect, admiration, and love. Let her life continue to inspire us and those to come. Share her stories with your loved ones, so that she won't be forgotten. And never be afraid to sing your favorite songs aloud. In this small way, she'll be eternal just as her love is for us.
Jean is survived by her sister Mary Beth (Victor) Asciolla, brother William (Melodie) Kohlenbush Jr., daughter Annemarie Tierney, son David (Luann) Tierney, Peter (Naoko) Tierney, grandchildren Shannon, Ryan, Koga, and Ena, many nieces and nephews, and a still-growing number of grandnieces and grandnephews.
We will be celebrating her life with a Mass held at Our Lady of Perpetual Help on Route 36 in Highlands, NJ, at 12pm on Saturday, April 30. Jean will then be laid to rest in the Kohlenbush family plot in Fairview Cemetery in Middletown alongside her husband Tom and son John. An open house will follow at Annemarie's home from around 2:30 to 5:30pm. All welcome.
In her memory, we kindly ask for a donation to the Alzheimer's Association at https://www.alz.org/. Just as in her favorite fantasies, we can slay this dragon once and for all.
To send flowers to the family or plant a tree in memory of Jean Lois Theresa Tierney, please visit Tribute Store
Funeral Mass
12:00 pm - 12:45 pm
Saturday, April 30, 2022
Our Lady of Perpetual Help
141 Navesink Avenue
Highlands, New Jersey, United States
Online Memory & Photo Sharing Event
Ongoing
Online Event
About this Event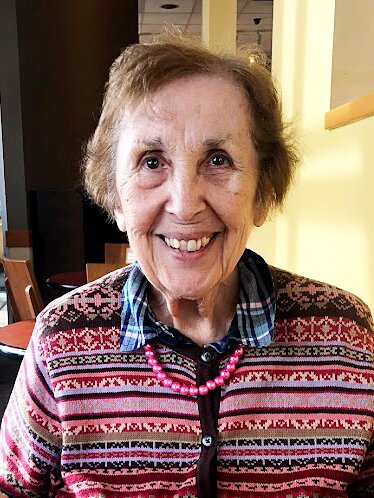 In Loving Memory
Jean Lois Theresa Tierney
1938 - 2021
Look inside to read what others have shared
Family and friends are coming together online to create a special keepsake. Every memory left on the online obituary will be automatically included in this book.
Share Your Memory of
Jean Lois Theresa