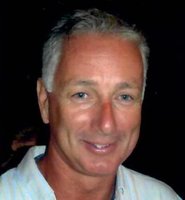 Jack "Johnnie" Davis
Jack Davis 57 of Highlands, New Jersey passed away Tuesday night at Monmouth Medical Center. Jack was a life long resident of Highlands and graduated from Henry Hudson Regional School in 1981. He worked as a laborer for Local 472 and spent most of his afternoons fencing.
He loved traveling to Disney World with his family. He enjoyed watching sports especially the New York Yankees and Dallas Cowboys. He had a love of comedic movies, ice cream, and going to the beach.
Jack is preceded in death by Johnnie Hillis, Gertrude Carlson, and Hatchet Davis.
Jack is survived by his wife Paige of 30 years and two children Chelsie and Dylan. His two brothers Arthur Davis and wife Nancy and Richard Davis and wife Toni. As well as his two nephews Patrick and Michael and one niece Jessica.
Funeral service from Posten-McGinley Funeral Home, 59 E Lincoln Ave, Atlantic Highlands , NJ, 07716 on Saturday, September 21st . Friends and family will be received from 3 to 6PM . Chapel Service will be conducted at 5:30pm. Internment will be private.
The family asks in lieu of flowers that donations be made to the Henry Hudson Regional School Music Department.