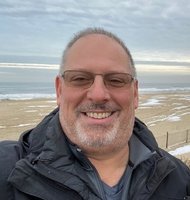 Harold F. "Harry" Cavanagh III
Harold "Harry" F. Cavanagh III (age 57) of Atlantic Highlands passed away on April 10, 2021.
Harry is survived by his wife of 25 yrs, Tracey (Newton); his children, Harold "Harry" IV, Tara and Robert "Robbie"; his mother Mary Ann Cavanagh of Piedmont, SC; sister Dawn Nappi (husband Lou Nappi) of Piedmont, SC; and his brother Brian (wife Jennifer) of Piedmont, SC. Harry is also survived by a very large extended family. He was predeceased by his father; Harold Jr.
Harry was devoted to his family and they meant the world to him. He loved fishing, hunting, and camping but most of all loved spending time with his family especially family game nights and hosting family gatherings. He enjoyed coaching his kids in their various sports and was active in his community. Harry was the first one to always lend a hand to anyone in need. Harry was also an avid fan of the NY Yankees and NY Giants.
Harry, born and raised in Staten Island, lived in Atlantic Highlands for the last 24 years. He was a member of the IUEC Local One out of New York as an elevator adjuster for over 37 years and will be missed by his Union brothers and sisters.
A Celebration of Life will be held on Thursday 4/15/21 from 5pm-8pm at the Posten-McGinley Funeral Home in Atlantic Highlands. In lieu of flowers, the family asks that donations be made in Harry's memory to www.jasonsdreamsforkids.com, a charity that was near and dear to Harry's heart. The family would like to thank everyone for the unending support that has been shown to them.