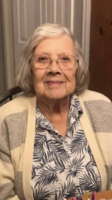 Mary Theresa Salenger
Mary T. Salenger (Sullivan)
1925-2021
Navesink – Mary Theresa Salenger, 95, passed away peacefully at home on February 20, 2021. Mary was born in New York City on November 24, 1925 and moved to Navesink in 1948 when she married her loving husband Harold E. Salenger of Navesink.
Mary was a loving homemaker raising her two children, Harold Jr. and JoAnn, and helped raise her granddaughter Melanie. She loved seeing her grandchildren and great grandchildren grow. Mary loved telling stories of her childhood about growing up on Laight Street, NY.
Mary was a charter and lifelong member of the Navesink Hook and Ladder Ladies Auxiliary. She was an avid reader of mystery novels and loved walking to the Navesink Public Library several times a week before they closed. Mary enjoyed her time with Sandy Ford, when she would come and take her for rides to the store and library. Everyone who knew Mary, knew her as Nan, and how she loved her cookies.
Mary is preceded in death by her husband Harold, who was a WWII Veteran, in 2000. She is survived by her Navesink family, daughter JoAnn and husband Gregory Kane, Melanie and husband Jason Kushwara, granddaughter Mallory, and two great grandchildren Ella and Liam Kushwara and her beloved dog Molly; and her family from Texas, son Harold Jr. and wife Mary, grandchildren Alison Tucker and Harold III, and great grandchildren Luke, Ava, Joseph and Avery.
Due to the pandemic, funeral arrangements are private. A Celebration of Life will be planned in the Spring.