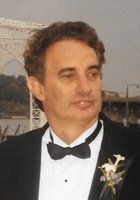 D. Robert "Bob" Fitzgerald
D. Robert (Bob) Fitzgerald died peacefully on February 4th, after a long battle with heart disease. Bob was 75 and a life-long resident of the Leonardo section of Middletown.
His family has owned Fitzgerald's RV Service for many decades where Bob grew up and worked his entire life. Those that knew Bob could certainly count on him for any help they needed and not just with their RV. He could fix just about anything and lord knows he had the parts in stock. Bob was an avid collector of many things especially his antique car collection, always proud to show his treasures at local car shows, and was an active member of the local Antique Car Club.
Bob was a graduate of Middletown High School and received both his bachelor's and master's degrees in History from Monmouth College, West Long Branch. He earned his doctorate in History from Pace University, New York City.
Predeceased by his parents, Daniel & Lillian Fitzgerald, Bob is survived by his sisters, Kathy Liga and her longtime partner, Andrew Sciarrino of Lakewood Ranch, Florida, and Eileen Wallace and her longtime partner Bill Wiley of Tinton Falls, NJ.
Due to COVID-19, the family is planning a memorial service in the Spring. Donations his honor can be made to The American Heart Association.
Posten-McGinley Funeral Home located 59 E. Lincoln Ave, Atlantic Highlands, NJ 07716 are handling the arrangements.