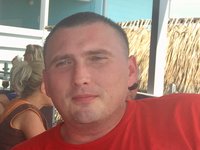 Steven Curren
Steven Curren, 38 , passed away on September 3, 2020. He is predeceased by his beloved mother Patricia Fennell. Surviving are his lifelong love Stacy Murphy Garofolo, his father Steven Curren, Stepmother Kim Curren, his brothers Brandin Curren and Dustin Frey and numerous nieces and nephews. Steven is also survived by his Aunt and Uncle Veronica and Tom Walczewski , Aunt Geri Bernhardt, his cousins Timothy Brown, Terrence and Thomas Fennell, Roy and Erica Erickson and a large extended family. Steven was a graduate of Henry Hudson Regional High School . He attended Brookdale and Rutgers University. Steven loved and worked in sales. He was an avid dog lover and a mixed martials enthusiast. He had a smile that would light up a room and was extremely generous to all his family and friends and always willing to help others in need. He will be painfully missed by all.
Arrangements are being handled by Posten-McGinley Funeral Home 59 E Lincoln Ave , Atlantic Highlands. Visitation will be Wednesday from 5 to 8 pm.
Burial will be Private.
Please note that Pandemic protocol is still in effect.