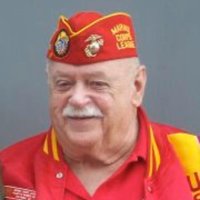 George Schwarz Sr.
George Schwarz, Sr. of Lexington, SC, and Highlands, NJ passed away on Thursday, January 23, 2020.
George was born on July 8, 1931, in Hillside, NJ where he resided until moving to Highlands in 1956.
He was the son of Julius and Elizabeth Schwarz. After high school, he proudly served in the United States Marine Corps. He served in the Korean War from 1949-1951. After serving he became a federal firefighter for Fort Monmouth where he retired. He was a volunteer fireman for Highlands, NJ fire department for over 30 years.
George stayed active in the Marine Corps League in South Carolina. His favorite time was Christmas when he would play Santa at the veteran's hospitals. He was also a Freemason.
George is survived by his wife Sheila, his son George, Jr. (Terry), daughters Lynda Lettice (Dave), Bonnie Morris (Gene), Tanya Otwell (Rob),
9 grandchildren; Justin, Shane, Tracy, Robert, Michael, Joel, Adam, Madison and Mason, 8 great-grandchildren; Mollie, Seth, RJ, Juliet, Finnegan, Annabel, Madden, and MacHenry. Two brothers Julius Schwarz and Thomas Schwartz.
Visitation will be held on Wednesday, February 5, 2020, from 2-4 and 7-9 at
Posten-McGinley Funeral Home
59 E. Lincoln Avenue
Atlantic Highlands, NJ 07716
In lieu of flowers please donate to the United States Marine Corps TOYS FOR TOTS or Shriners Hospitals for Children.