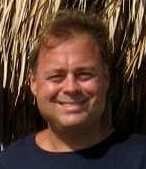 James F. Lawrence
James F. Lawrence, aged 51, of Atlantic Highlands, passed away on October 9, 2019, in the embrace of his loving family.
Jim was a life-long New Jerseyan, living his early years in Haddonfield before moving to Rumson. He was a graduate of Rumson-Fair Haven High School and Rutgers School of Engineering. He was previously employed as a satellite engineer.
Jim was a proficient guitarist and all-around musician, including piano and saxophone. He had a great appreciation for all genres of music and had a vast amount of knowledge on the subject.
He was always curious and learning, especially in the areas of science and math, including magic and science-fiction.
Jim loved nature and all animals, enjoying all that Monmouth County has to offer, be it the beach on a stormy day or the serenity of a walk in the Hartshorne Woods. He was an avid golfer and enjoyed camping and boating. He was an expert at solving the NY Times Crossword, and well-versed in computer coding.
His clever wit, sly smile, kind eyes, and humble talent and intelligence will be lovingly remembered by all who knew him.
Jim is survived by his sister Cynthia, many loving aunts and uncles, cousins, friends, and his furry companion Missy.
He was predeceased by his father Albert, his mother Natalie and brothers David and Christopher.
A gathering to celebrate Jim's life will take place on November 17th, including a repast. Friends are very welcome, kindly let Ms. Lawrence or Richard Goldsmith know via Facebook Messenger if you plan to attend.